Consolidation – an Inevitable Future for Bus Operators?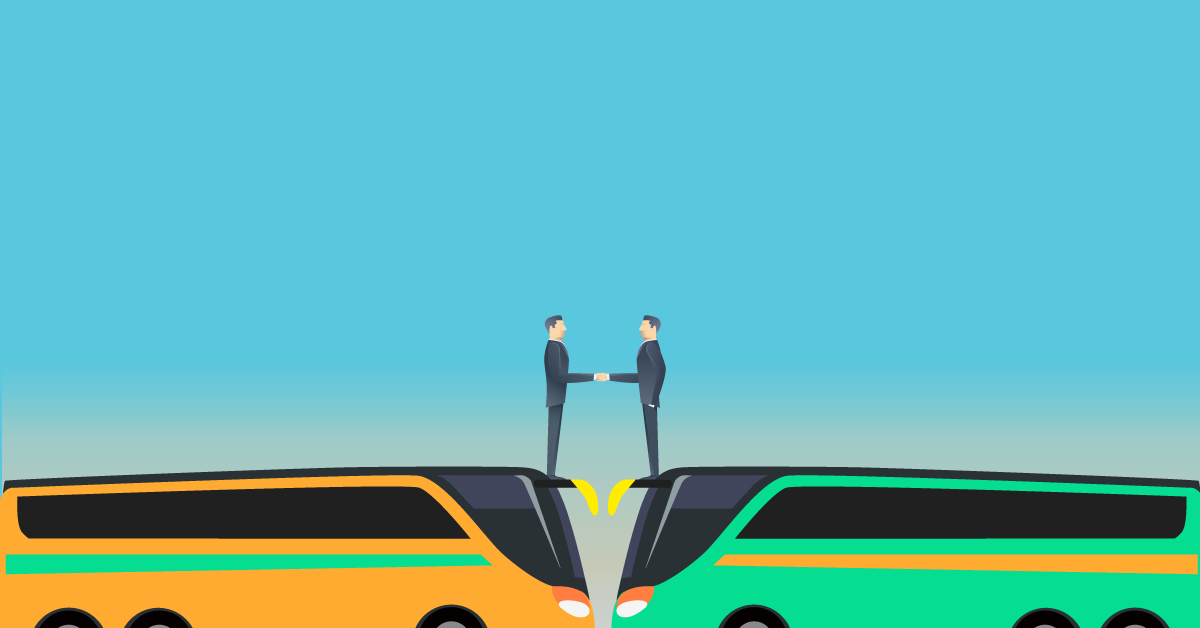 Consolidation is nothing new for the intercity bus market. It's common regardless of the region. Although, the reasons and methods differ by markets.
For example, during the last 50 years, most of Mexico's market has been consolidated to the hands of big groups - ADO, IAMSA, Estrella Blanca, Grupo Senda, etc. Even though they operate under different brands, the biggest groups might even operate thousands of buses altogether.
Corporate mergers have been one of the main means of consolidation in Mexico. As an outcome, ADO, for example, has a mix of shareholders consisting of a few hundred ex-bus operators. Such consolidation processes are time and capital consuming but in the end, allow efficient operating on big markets.
Similar consolidations have also taken place on regulated markets or those in the transition towards liberalization, e.g. Spain and Portugal where regional bus operators have merged under strong domestic brands. Same goes for the USA, where many regional operators consolidated over time into a Greyhound corporation.
A New Trend in Consolidation
But over the past few years, there are signs of a new trend – digitally driven consolidation. Previously discussed consolidations were mainly driven by the goal to increase operational effectiveness, expand physical sales points, and reduce competition on oversaturated routes.
But when your future clients don't value your vast network of ticket offices anymore and rather book their seats through an app or website, it could become the new argumentation for consolidation. After all, it's about who consolidates and controls client relationship.
Obviously, one of the recent examples of digital consolidation in the intercity bus industry is Flixbus, who markets themselves as a digitally-driven bus operator. Meaning that they don't own any buses nor drivers. Yet, they have been successfully consolidating the bus market operator by operator without including them in the cap table.
What the intercity bus industry needs to understand from all those examples is that consolidation is defined by the means to own the client relationship. Be it a wide network of brick and mortar sales points or one strong digital travel portal.
Although Flixbus has merged in the early liberalization of the German market and acquired some stronger competitors, small and mid-sized ones have been instead convinced to co-operate as subcontractors to cover their capital and operational costs.
One of the arguments for them has been that Flixbus offers a modern digital booking infrastructure and sales & marketing team, which the operators themselves cannot afford.
Yet, Flixbus is by no means the first one to drive digital consolidation. There were, for example, Megabus and National Express who for years have successfully practised similar, subcontracting model.
Their brand and commercial decisions are separated from the operational business where each local, regionally managed small operator runs a specific segment of a wider route network.
Similarly to Flixbus, both Megabus and National Express also benefitted from central booking and inventory management. Yet, Flixbus had the advantage of starting on an empty, fast-growing German market with pockets full of cash to spend on consolidating the market as fast as possible.
What the intercity bus industry needs to understand from all those examples is that consolidation is defined by the means to own the client relationship. Be it a wide network of brick and mortar sales points or one strong digital travel portal.
So is Digital Consolidation for S&M Sized Operators Inevitable?
In our mind, it depends whether those operators understand the speed by which digital sales channels penetrate their home market and are able to adjust adequately and quickly.
If for example, they foresee that digital sales channels (competitors, OTAs, and metasearch engines) are close to gaining a critical market share (25-40%) and their own digital sales capabilities are weak, then it's clear that they need to act right away.
There are basically three options to act:
Do nothing and last until a digitally capable and stronger brand overtakes them.
Bundle up with similar-sized independent operators to share digital infrastructure (or use SaaS-based solutions), client base, and sales channels but retain their individual branding and a balancing critical mass on the market (this is where neutrally positioned OTAs will play a critical role).
Develop individual custom digital tools and sales channels but risk with failover, loss of time, and overinvesting when competing for the visibility in the digital domain.
It is, of course, important to stress that those trends and choices heavily depend on the state of the current market. For example, regulation, existing market players and their relative market shares, digital awareness and payment methods, etc.
Are There Any Alternatives to Consolidation?
Another important factor to consider regardless of digital vs physical sales channels is differentiation by expanding current segments or focusing on a specific target group.
Depending on the region, there might be enough room on the market to concentrate on other segments than a typical intercity bus client.
The justification for such move is that digital consolidators like Flixbus depend on the type of fleet their subcontractors provide them. It usually consists of bland, no-thrill tourism/charter buses. This is also why Flixbus type of operator's main selling argument is the price.
A loyal niche client segment with enough market volume could be an alternative to becoming a consolidated no-name subcontractor. But it goes without saying that focusing on a specific segment will require a sharp and clear understanding of that segment's expectations and a corresponding investment plan.
One of such examples is expanding from the existing client base towards an upgraded, corporate segment. It's a bold move as it requires a lot of effort - clear communication, marketing, customer service, and above all, a fleet with a specific configuration to meet the expectations of this segment.
Such a fleet is rarely provided by regular charter subcontractors, thus requiring such operators to invest in their own fleet.
It goes without saying that in order to focus on more demanding passenger segment, a modern digital infrastructure has to be established to provide streamlined and convenient booking and customer-service experience.
Conclusion
It's pretty clear that the intercity bus industry is not going to be an exception compared to the shift in global distribution mechanisms. Just like Amazon dries up physical stores in the retail industry, digitally driven operators like Flixbus will hurt small, legacy-dependant bus operators.
The best way to combat this threat is to find a way to keep up with digitalization, improve customer experience and if possible, expand passenger segments to increase or at least retain volume.