5 trends impacting intercity bus industry in 2020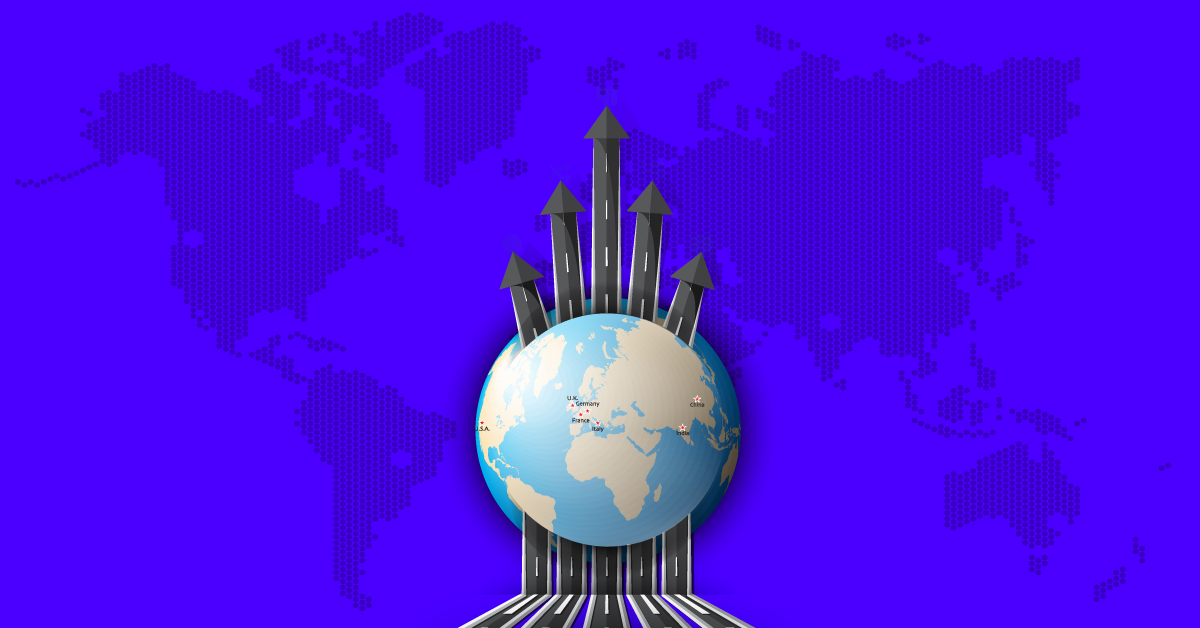 The whole travel industry is currently being challenged by digitally charged (and admittedly somewhat over-hyped) competitors. These are often accompanied by sizable VC funding to support the growth. And the intercity bus industry is no exception.
New-age asset-light bus operators such as Flixbus, BlaBlaBus and Buser all have raised investments based on valuation range surreal to most established players. It is hard to imagine how someone is able to justify such high valuation in a low-margin passenger bus transportation business.
Considering how unpredictable this evolution was for most of the industry, it begs the question - what else can we expect in the upcoming year(s) for this industry?
Thus Turnit team gathered up to forecast upcoming trends intercity bus industry is likely to experience during the year 2020 and onwards.
1) Digital Consolidation of distribution channels
Increase of Search Engine Marketing (SEM) and overall client acquisition costs due to saturated competitive landscape will eventually have an effect on the current ground-based OTA landscape.
Judging by this trend, M&A deals similar to Busfor being acquired by BlaBlaBus and Omio buying Rome2Rio will have follow-ups in 2020.
Such trend will affect also the small and medium-sized bus operators whose business solely relies on direct bookings from their website. Many leading regional operators have succeeded in building their own website with solid direct traffic. However, expanding your distribution network is a wise choice and in most cases will yield positive results.
Yet, for operators with small online marketing budget, retaining healthy online presence and visibility will become more challenging. Thus it is only logical that leading operators will start developing their own local affiliate partnerships with other operators in order to expand their seat capacity, route network and sales volume, counter-balancing the expansion of Flixbus.
The underlying prerequisite for success of such affiliate partnerships is a modern and scalable technology infrastructure that enables harmonization of various operator business models on one common reservation and inventory management platform.
We have covered digital consolidation in a separate blog post in depth. Click on the image below to read: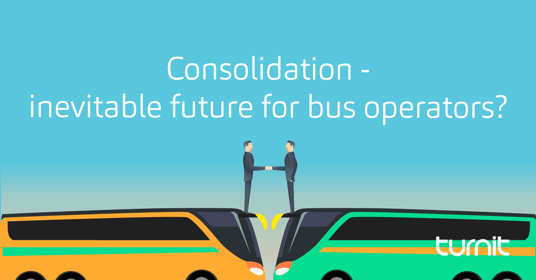 2) Continuing liberalization of long-distance travel market
Turnit has always believed that for commercial intercity travel industry to thrive, innovate and convert more people away from using personal cars, the existence of fully deregulated market is a must. It will drive bus operators to improve passenger experience, be it online or on-board.
We are excited to see that after an exemplary deregulation of German and French intercity travel markets, similar trends are now picking up elsewhere in Europe and the world overall. Portugese intercity market will open in Q1 2020, Greek authorities are exploring ways to deregulate some part of the intercity bus market and even Brazilian government is exploring opportunities a free market would create for interstate bus travel.
Operators, in the above mentioned markets, should pay close attention and already today begin adapting to the new status quo. One of the key components for successful adaptation to new conditions is a possession of cutting edge digital passenger servicing tools, with mandatory features like:
Powerful API-s for omni-channel ticket distribution;
Ability to apply yielded pricing;
Well thought through and customer-friendly loyalty scheme to facilitate direct relationships with customers;
Self-service capabilities for passengers to amend or upgrade their reservation;
Effective tools for operations - automated customer notifications, real-time passenger information.
In one of our previous blog post we have covered in depth the vital features a modern reservation and inventory management system should possess. Feel free to find it from here
3) Rise of the airport shuttles
The global air passenger traffic has doubled in the last 15 years (Statista, 2019). Passenger traffic growth has had a huge impact on the physical airport infrastructure and travel methods of getting to/from airports. Such rapid growth is likely to have the biggest impact on the smaller regional airports servicing low-cost carriers.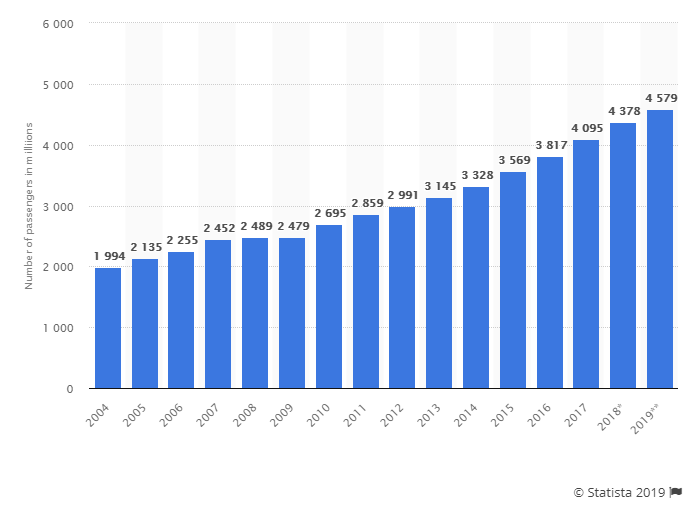 We believe there is a considerable untapped potential for intercity bus industry to provide regular high-quality transport to/from airports. This is especially true in the USA, where personal car and private shuttle, remains the most popular transport mode getting to and from the airport. USA market is also unique thanks to the over-abundance of local hub-related flights servicing short distances.
We believe a high-quality intercity bus, combined with fast-lane security screening and luggage transfer, would be a much more convenient, greener and also economical option. Today we see passengers paying average $60-$100 or even more for a one-way flight or taxi ride while an alternative bus ride which takes the same amount of time, would cost half that.
4) New digital frontiers - Africa and LATAM

As Turnit is expanding its global business, we learn valuable lessons from each new client engagement. But one thing difficult to discard is that in different parts of the world there is a considerable disparity between amonts of tickets sold via physical and digital sales channels.
For instance, in Northern Europe and America an average bus operator sells at least 50% of their tickets online and truly innovative operators reach even 80%-100%. Meanwhile, the average share of online sales elsewhere is around 10-15% at best.
However, we are convinced that in the next couple of years we will be witnessing a growth of online ticket sales in certain regions. Particularly those where cash sales and ticket offices have been traditionally ruling the market.
For example, in more progressive regions of Africa, innovative wallet-based payment providers are encouraging passengers to book tickets using their smartphones. According to Pew Research Centre, smartphone penetration in South Africa already exceeds 60% while in Kenya and Nigeria it has exceeded 40%. This translates to tens of millions of passengers who are expecting digital ticketing experience, instead of waiting in a bus station ticket office queue.
Another region awaking to digital transformation is Latin America, where long-distance bus has a considerable market share for travelling between major cities. The region is currently witnessing substantial growth in retail e-commerce (36,3% vs 27,5% Worldwide) and new innovative fintech solutions are sprouting rapidly throughout Latin America.
These trends are going to affect the otherwise developed intercity bus industry so rapidly that the existing legacy reservation and inventory management systems will crumble under the surge of e-commerce (Read about this issue from our previous blog post about "How Digital Resellers Influence the Technology of Bus Reservation Systems?"). Once this happens, there will be no time left to develop new digital infrastructure from scratch.
For that reason we are confident that mature off-the-shelf SaaS platforms such as Turnit Ride will be a great remedy for bus operators looking for fast digital turnaround.
5) Door-to-door booking experience

Intercity bus industry is a mix of travel and commuter service. From one side, it is a comfortable way to travel between major cities without the hassle of airport security whilst gaining valuable time which is otherwise wasted while driving a car. Yet, there is one objective an intercity bus has not been able to fulfill. In most cases, a bus will not take you to the doorstep of your final destination.
Having said that, in the upcoming years we are likely to witness initial traction of truly frictionless multi-modal door-to-door passenger experience. This will include a ride-hailing and long-distance components within one booking.
The reason for such assumption is simple - both the service and technology providers are starting to realize the potential and added value of such integration. Seeing how Uber and Lyft add other transport modes to their applications, it is only logical for passengers to expect at one point to book their entire journey from say Boston Logan Airport to home address in New York using single application.
We also believe that well established operators with strong direct booking flow will start developing own partnerships with first- and last mile service providers who will open their booking API-s for reservation systems to integrate with.
To back our claims, Turnit is already today preparing an integration capability with different ride-hailing platforms in order to unlock door-to-door booking experience for our clients and their passengers.
There are many more trends to review for the upcoming year(s), be it process automation, machine learning or personalization. Many of these and other relevant topics we will be covering in the upcoming blog posts.
Note: Don't forget to check out other Turnit Blog posts on the many topics that will impact the digital transformation of the intercity bus industry.