Digital self-service - a vital part of great passenger experience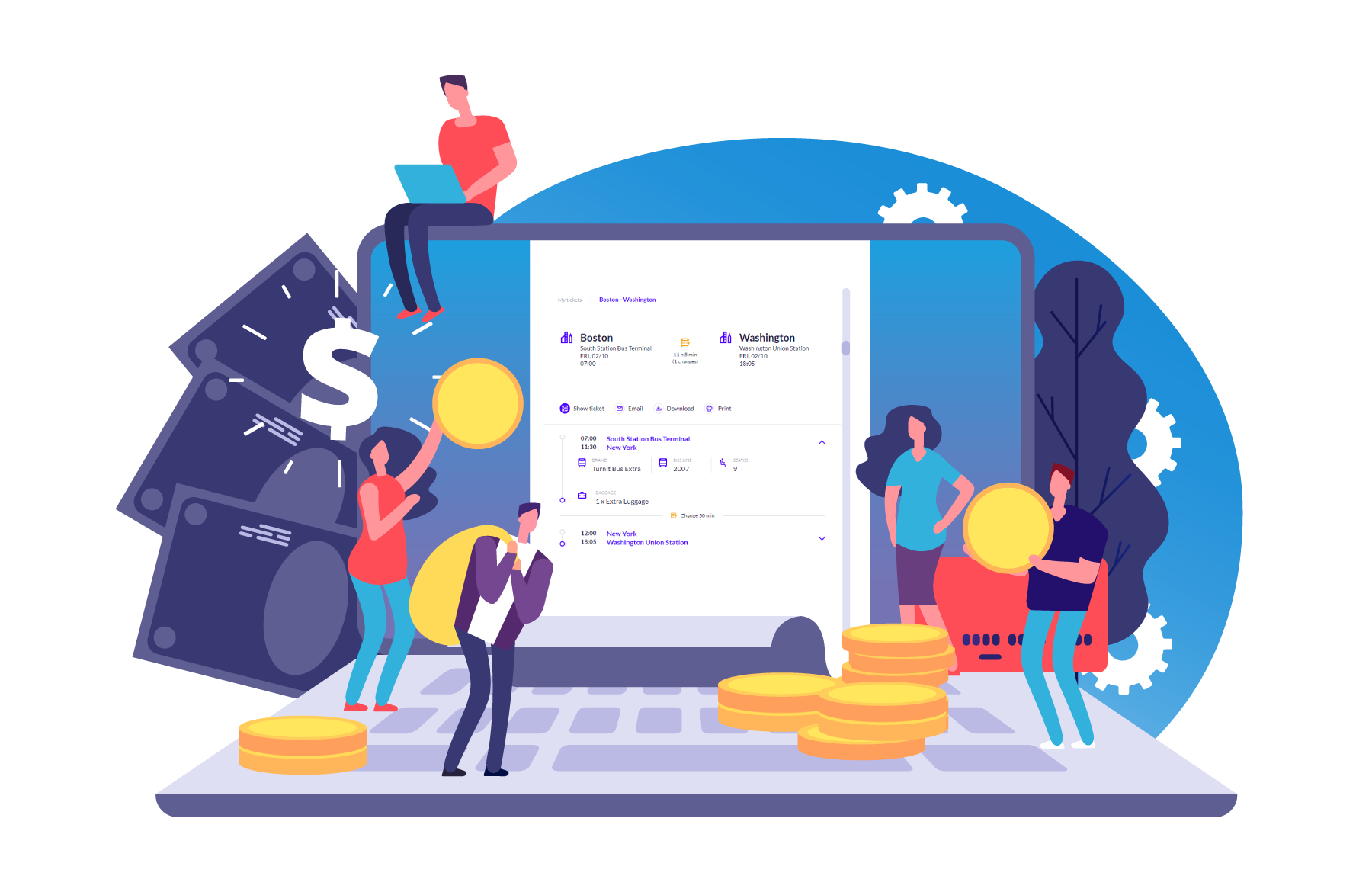 Despite differences across continents and countries, it's estimated that there are more than 4.5 billion internet users today (source). This means, more than ever, customers are able and eager to seize control of their interactions with merchants - be it ordering food or a taxi, buying new clothes, or booking a ticket.
The possibility to purchase goods and services online and later also cancel or modify them has become a natural part of the user experience in several industries. To be honest, I don't really remember the last time I actually reached out to an airline call center despite travelling (ok ... used to!) a lot - there is just no need.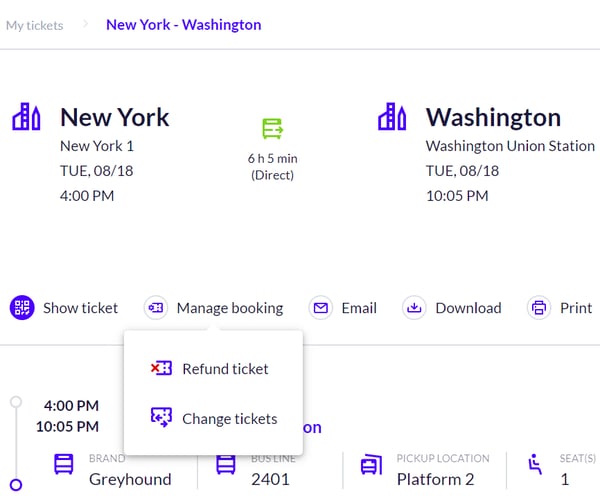 Meanwhile, the option to amend intercity bus tickets through self-service has not been regarded as obvious policy by operators. Perhaps because bus tickets are often not booked as far in advance and the average fares can be much cheaper compared flight tickets. Thus wasting money on unused bus tickets might not appear to be such a big deal.
Now that COVID-19 has brought unpredictability to a new level, passenger's travel plans tend to change more often, thus the need to switch between later/earlier departure and date or cancel fully is becoming paramount. A bus operator trying to handle all such customer requests through a call center or physical offices has probably already run into trouble managing the balance between peak and slower times. Especially while forced to reduce costs on manpower. Thus we believe it's paramount for the intercity bus industry to speed up the change. After all, if this is the norm in the overall travel industry, why not adopt it?
What is self-service?
In essence, the concept of self-service is quite straightforward. First, passengers can purchase their ticket, either online or through other channels where their identity (e-mail, phone etc) can be recorded. When the need occurs, they are able to identify themselves in the self-service portal or mobile application and make the appropriate modifications to their bookings. The self-service concept doesn't necessarily require signing up to create a user account as the booking data can be accessed for modification purposes also through other secure means (URL, booking ID etc). Nevertheless, our experience shows that in an omni-channel sales environment personalized account provides a much more streamlined user experience by consolidating all transactions, vouchers, payment methods, user and loyalty data in one place, regardless of access point. Especially when simplifying the sign-in process with Open Authentication (oAuth) tools which associates the account with an already existing Google and Facebook log-in.
What are the benefits for passengers and bus operators?
Passengers expect assurance - they can book their tickets further in advance without worrying about losing their money in case their daily schedules gets messed up. Such confidence provides a win-win for both passengers and service providers. If the initial reservation is already made, the passengers are more likely to stay loyal to your brand, even if they change from the original trip to another one.
Remember, if customers don't have that confidence, they are likely to wait until the last minute to make the purchase and may end up with a competing brand offering a last minute discount price. Or even worse, insecurity might drive them to prefer their personal car, resulting in a potential loss of revenue.
Flexibility in travel planning has historically been something only operators with large budget have been able to provide. Setting up an effective service desk to deal with all customer requests can be quite costly. Online self-service changes this. Whether you are a small operator with no dedicated support team or a large service provider - providing a digital self-service desk for passengers is tremendous value for money.
One more advantageous aspect of self-service is the possibility to earn ancillary revenues. Cashing in on flexibility is something that airlines are quite good - you don't have to give it away for free. By differentiating the modification and cancellation terms, you may offer different ticket classes (Economy, Flex, Premium). Passengers are often ready to pay extra for that added security. To take it even further, you could associate these extra features with your loyalty program - passengers travelling regularly have more flexibility included in the ticket price by default.
Upselling is another page from airlines playbook. Would you like to buy cancellation insurance? Upgrade to a more comfortable business class seat? Why not leverage the same patterns in bus travel? If by providing flexibility you give more reason to buy in advance, then you keep the customer relation for a longer period - meaning you have a perfect chance to recommend additional convenience features before the trip.
What would an operator need to take into account?
There are many aspects to consider when building up a self-service portal. Below we cover some of the more important ones:
It goes without saying, a comprehensive omni-channel central reservation system which records all transactions in one central database regardless of the sales channel, is a must for a successful self-service strategy. Self-service must be able to handle in real time all the complex business rules and terms, i.e. cancellation and modification fees, dependence on time until departure etc. Passengers want instant feedback about the impact of the choices they plan to take.

Let's face it - there will always be exceptions to the business rules you so carefully have carved out for your passengers. Professional reservation systems should have user-related overriding mechanisms in place, just in case for those 1% of corner cases.
Personalization is a must. Your self-service business rules should be aligned to the passenger's loyalty level and preferences
With an omni-channel approach you might end up with a variety of distribution channels. Thus, both technical and business consequences should be considered. For example cases where a ticket was bought from the ticket office - would you like to allow such tickets to be modified online or vice versa? Can your digital resellers (OTA-s for example) also provide ticket management in their own channels etc? Your reservation system should cater to such configuration options
You should never compromise on security, when collecting and storing personal data. Privacy regulations and related penalties keep getting stricter in many parts of the world. You need to be able to avoid data leaks, respond to user requests about the stored information and have strong monitoring and auditing mechanisms in place to avoid an invasion of privacy by your employees or partners
Control over cash flow should be considered carefully as an overly flexible cancellation policy might lead to liquidity issues in more fluctuating scenarios. Luckily you can also prepare safeguarding solutions like refunding through vouchers. Think of it as personal account-based credit for future bookings to keep the cash and customer relationship with your company. And should they really decide to demand a cash refund, you could set different refund conversion rates (100% value of voucher but 50% on cash etc).
Conclusion
Considering all the off-the-shelf available technology like the one Turnit provides, it is easier than ever to offer your customers the flexibility they expect, without breaking the budget or hiring extra manpower. Furthermore, providing digital self-service capability will boost the image of your brand and existing customer loyalty.
We are more than happy to provide further guidance on how to (re)build your online presence and self-service capabilities. Request a demo of our Ride platform and see the feature working in real life.